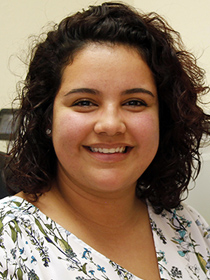 Samantha Class
TRiO EOC Site Coordinator - Trinidad Campus
---
Berg 209
719.846.5689
I'm Samantha and I'm the TRiO EOC Site Coordinator here at Trinidad State. Although I work out of TSJC, I technically work for Colorado State University - Pueblo too.
I earned my Bachelor of Science in Psychology at the University of Central Florida (Go Knights!) and yes, I am a long way from home! I grew up 20 minutes from Orlando, Florida (aka the vacation capital of the WORLD), but I have already fallen in love with Colorado in the short time I have been here. Back home I loved making plans to go to the beach in the middle of the day, visiting the theme parks, and soaking up the sun! Feel free to ask me all about Disney, Universal, and Sea World when you come to see me. :)
I recently started my journey in Higher Education after going to school for Clinical Psychology, but I am still able to follow my passion of helping people through both career paths, which is what was most important to me. Whether you need help filling out your FAFSA, or a friend on campus, I am here to help!