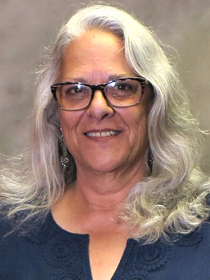 Ellen Hanson
Retention Specialist, Student Services - Valley Campus
---
Main 202 C
719.589.7001
I grew up in the East not too far from Washington D.C. I went to the University of Maryland right out of high school but left college in my last semester as a senior. I realized, much later that I was not ready to go into the world and become a teacher; I had not lived enough to teach anybody anything! I went on to become an artist, had my own business, sold art for several years, and worked as a bartender too.
Just when I felt good about who I was and what I was doing, I fell in love and began a new chapter in life. It wasn't until we relocated in the San Luis Valley with two small children that I realized I needed to complete my education. I travelled back to Maryland to get my Bachelor of Science as an Art Teacher, fully expecting to come back and have a job at a local elementary school in the Valley; that didn't happen. I went on to make tools for therapists working with children and then fell into what I love: working with people who have not had 'perfect' lives.
I have done advocacy for victims of domestic violence, worked with people who have some deficits, and helped people find the resources they need to have quality in their life. I moved on to become a certified Life Coach, which led me to Trinidad State working with the TRiO Program as the Retention Specialist.
I believe that if I operate as my best self, then I can help you get what you need to succeed so you can achieve your goals. I came to realize that life experience is a good teacher - so going back to school as a "non-traditional student" may have been one of the best things I have done for my family and myself.
My motto and life mantra is "Live with Intention, Create Beauty, Embrace the Positive, Let the Rest Go." OR "Do good Be good".