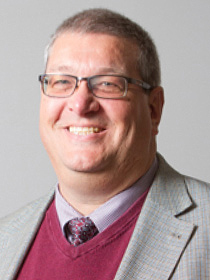 Ron Slinger
---
Ron Slinger is Vice President of Institutional Advancement, Strategic Partnerships, and Workforce Solutions at Red Rocks Community College and the Executive Director of the Red Rocks Community College Foundation. He has been at Red Rocks since 2010. Ron oversees the Division of Institutional Advancement at the College which includes the Foundation Office, Grants Office, Strategic Partnerships, Alumni Relations, Workforce Solutions, Government Relations and Community Relations. Under Ron's leadership, the RRCC Foundation has raised over $25 million for scholarships, program support and capital needs. He has also helped the College grow enrollment through strategic partnerships with businesses and the community. In 2014, Ron was recognized by his peers as the Admin/Pro Tech Employee of the Year at Red Rocks Community College.

Prior to joining the College, Ron was a successful small business owner for more than fifteen years. He decided to return to higher education where he previously began his career after graduate school working at Bluffton University in their Student Success Division. During his time at Bluffton, he oversaw the general operations of their student center complex as well as having responsibilities in their residence life division.

Ron has a distinguished track record of public service in Colorado. He has been elected to public office in four different roles. He has been a Gilpin County RE-1 School Board Member, a Central City Council Member, a Gilpin County Commissioner and most recently Central City Mayor. Ron has also served on numerous non-profit boards helping them raise well over $6 million dollars toward both capital and program needs. He currently serves as a Board Member of the Arvada Economic Development Association, as a member of the Board of Governors of the Jefferson County Economic Development Corporation, as a Board Member of the Tri-County Workforce Board, and he is President-Elect of the Arvada Jefferson Kiwanis Club. Because of his work in the community, Ron has twice received the Chairmen's Choice Award from the Arvada Chamber of Commerce recognizing his commitment and service to the business community. He also was recently awarded the Image Award for his service to the Arvada Community.

Ron holds a Bachelor's Degree in Communications with minors in History and Religion from Defiance College (Ohio) where he also was a four-year starter and three-time team captain in football. While at Defiance he also was a four-time national qualifier in Intercollegiate Speech. He holds a Master's Degree in Higher Education Student Affairs from Bowling Green State University (Ohio). Ron is currently working on a Doctorate in Community College Leadership through Ferris State University (Michigan). Ron and his wife, Karen, have two children, Nicholas age 23, and Katelyn age 18.
Public Forum Agenda
Wednesday, February 13, 2019
Valley Campus
Main #120
5:15 PM – 6:15 PM
Thursday, February 14, 2019
Trinidad Campus
Pioneer Room
5:30 PM – 6:30 PM