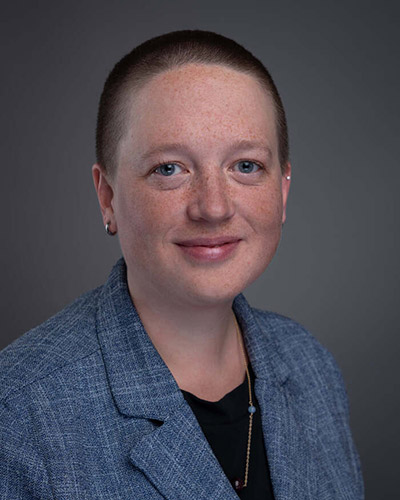 Jean Alger, Ph.D.
Assistant Professor, English, Division Chair - Valley Campus
---
Main 104C
719.589.7012
Dr. Jean Alger completed her PhD in English with an emphasis in American Literature and Indigenous Rhetorics at Oklahoma State University in May of 2017. Prior to that, she studied British Medieval and Renaissance literature at the University of Central Oklahoma, where she earned her Master's of Arts in English. 

Dr. Alger teaches English Composition, Introduction to Literature, and Interpersonal Communications at TSJC. She likes to do hands-on work in her classes and one of her major goals is to help students experience and practice new and different kinds of writing. 

Dr. Alger is the general editor for Trinidad State's Literary and Art Journal, Bloodlines. She would love to talk to you about the journal, and to receive your submissions!

Dr. Alger has one cat, Morgan, that she occasionally mentions in class. She will show pictures of him if asked. She loves coffee and good chocolate. When she's not teaching, Dr. Alger likes to read, write, and take walks and hikes. She grew up in the Seattle area and has never stopped missing the ocean, but the mountains are a good substitute.