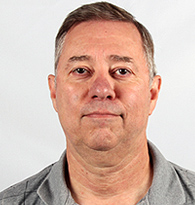 Greg Boyce
Director of Communications - Trinidad Campus
---
Boyd 119
719.846.5530
I made a career change to marketing and communications and came to Trinidad State in January of 2013 after a career in radio and television news.   I got my first job in radio at KFEL Radio in Pueblo in 1970 at the age of 15.  I later moved to KDZA Radio in Pueblo and worked as a disc jockey and then as a news reporter while finishing my Bachelor of Science degree in mass communications.  I was promoted to news director at KDZA before moving into television at the age of 25.
During my 32 years at KOAA TV I was a reporter, anchor, assistant news director, assignment manager and news director.  I led KOAA to the top-rated position in news, and KOAA remained in the number one spot until after my departure at the end of 2012.
I have won numerous awards in both radio and television for news reporting, investigative reporting, and feature reporting.  Most important are those people I mentored who have gone on to own production companies, become award winning anchors and national correspondents for NBC, CBS and Fox News.
My job as Communications Director at Trinidad State allows me to take those lessons learned in the newsroom trenches to become an effective liaison with media members who cover Trinidad State.  I am able to take my love of writing, photography and video and use those skills in a different way as I represent the college day to day.