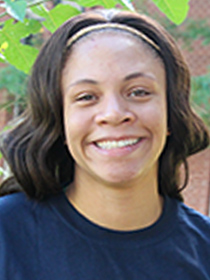 Destiny Bragman
Head Women's Basketball Coach - Trinidad Campus
---
Scott Gymnasium
719.846.5519
Destiny Bragman begins her first season as Head coach for the Trinidad State Women's Basketball program in 2019-20.

Last year 2018-2019, as an assistant with Western Colorado University, she helped coach the Mountaineers to their first conference tournament berth in seven seasons and the team's fifth in program history. Western's 12 conference wins during the season tied for second-best all-time and the team's 16 overall wins was fifth best.

Bragman helped coach two players to all-conference selections. Tammarrah Gothard was named the conference defensive player of the year, while earning an All-Rocky Mountain Athletic Conference Second Team selection. Samantha Coleman earned an All-RMAC Honorable Mention selection.

Bragman, a New Mexico native, joined the Mountaineer staff after spending three seasons as assistant coach for the Women's Basketball team at Trinidad State Junior College.

With the Trojans, Bragman helped guide the team to a 17-win season 2017-2018, the most wins in school history. She's helped 20 TSJC student-athletes sign with four-year colleges or universities and conducted individual workouts for all positions.

Along with assisting recruiting at TSJC, Bragman supervised all tutoring which resulted in the eighth highest team GPA among women's basketball programs at the NJCAA level.

As a player, Bragman spent two seasons at Trinidad State before joining the Stephen F. Austin State University in Nacogdoches, Texas. At TSJC, Bragman was a member of the Dean's List and was second in the NJCAA for shot blocking as a sophomore.

At SFA, Bragman helped the team reach the Women's Basketball Invitational Championship game in 2014 and was part of SFA's 16th and 17th Southland Conference championship teams in 2014 and 2015. Bragman graduated from SFA in 2015 with a degree in kinesiology.