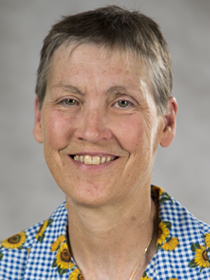 Cindy Clements
Mathematics Professor and Robotics Advisor - Trinidad Campus
---
Davis 129
719.846.5438
Cindy Clements graduated summa cum laude from California Polytechnic State University at San Luis Obispo with a Bachelor of Science degree in mathematics. She graduated from Oklahoma State University with a Master's of Science in mathematics (with distinction). She has been teaching mathematics, computer science, and statistics since 1982 except for a three-year stint as a mathematics editor at Key Curriculum Press. While she was at Key, she was the mathematics editor for Statistics: From Data to Decision by Watkins et al.

Cindy has also authored three books. Exploring Calculus with the Geometer's Sketchpad, Exploring Statistics with Fathom, and a Computer Graphics Textbook (no longer in print). She is currently in the process of converting her Exploring Calculus activities in Geometer's Sketchpad into Web Sketchpad.
Since 2009, Cindy has been the robotics advisor and affiliate director for the Colorado Space Grant Consortium. Each year the team travels to the Great Sand Dunes in Colorado to test the performance of their rover. During the 2017-2018 seasons, her team has been invited to test their rover at the Johnson Space Center in Houston and at the Mars Desert Research Station in Hanksville, Utah.
Cindy been awarded the Coca-Cola educator of distinction award and the Oklahoma Governor's Award of Excellence in teaching. Cindy is a featured teacher and a panelist for Parallax Inc. She also earned a ranking in The William Lowell Putnam Mathematical Competition as a senior at Cal Poly.