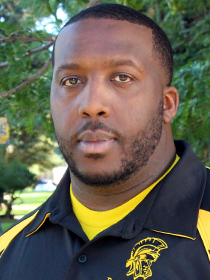 David Hardman
Director of Student Life, Recruiting, Outreach and Conduct - Trinidad Campus
---
Berg 201
719.846.5458
David Hardman was born in the greater Houston, Texas area in 1982. After graduating from Willowridge High School in 2002, David decide to go to college at Bethany College. He received Bachelor of Arts Degrees in: Art Studio with Concentration in Sculpture and Visual Art Administration with Concentration in Ceramics, and minor in Business in 2007 from Bethany College in Lindsborg, Kansas. While at Bethany College David was a member of Tau Pi chapter of "Order of Omega", President of Greek Council, an Ambassadors for the Campus Experience (ACE), President of Alpha Kappa Omega Fraternity, Messiah Art Show "Best of Sculpture" winner, Messiah Art Show "Merit Award in Craft" winner, Bethany College Football Player, Bethany College Track & Field member, Dean's List (Honor Roll), Outstanding New Student Award, SGA, Resident Assistant and Senior Resident Assistant.

Throughout David Hardman's career, he has worked as a Director of Student Life, Recruiting, Outreach, and Conduct; Director of Student Life and Housing, Diversity Coordinator, an Admissions Representative, a Senior Resident Assistant, Assistant Manager, and College Ambassador. Today, David serves as the Director of Student Life, Recruiting, Outreach and Conduct at Trinidad State Junior College, where his duties include advising and working with Student Government Association, Enrollment Management, Student Activities, Orientation, Student Conduct, Budgeting, College Mascot, and Programing Events. He also has served on the Equity Committee, COSI Committee, EverFi (Haven Plus) Committee, STEM for Boy (GRIP) Committee and BIT Committee member.

While at K-State Polytechnic he served as the Multicultural Student Union advisor, a Co-Advisor for Student Ambassadors, the Judicial Board Advisor for Student Government Association, K-State Polytechnic Soccer Club Coach and KACRAO- CPC Committee member. Also in 2014 he was named the K-State Polytechnic's Club Advisor of the year.

Now David lives in Trinidad, Colorado with his wife of 10 years and two boys. He has also served as an assistant minister at St. John's Missionary Baptist Church in Salina, KS for over ten years. In 2013 he also graduated from Kansas Wesleyan University with a Master in Business Administration.