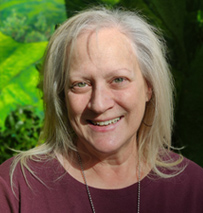 Jocelyn King
Program Coordinator, Occupational Safety & Health - Trinidad/Colorado Springs
---
Mullen 405 (when on campus)
719.680.6572
I'm a Colorado native, having been born in Colorado Springs, then growing up in Glenwood Springs, on the Western Slope of Colorado. I spent several summers in my late teens and early 20s working for a beach service in South Padre Island, Texas, and I still have to get a beach fix once in awhile! I've also worked in a Mexican restaurant, as a maid, at Baskin Robbins (yum!!), for an attorney, an accountant, in a retail clothing store, at a property management company, in a real estate office, a mortgage company, an office equipment company, and for a newspaper (where I proofed pages, wrote some articles, and learned to layout pages). I've learned something in each of these jobs that's been helpful in the years following, so I fully believe that anything you do can provide important life lessons.

I am a graduate of the TSJC OSHT program, and I also hold a Bachelor's degree in Occupational Safety and Health, with a minor in Human Resource Management, from Regis University. I completed a Master's in Education, option in Online Teaching and Learning, from California State University - East Bay in 2004, and finished a Master's in Higher Education Administration and Leadership from Capella University in December 2012.

I have worked with the TSJC OSHT program in various capacities since 1996, and I currently serve as the Program Coordinator, in addition to teaching two or three courses each semester. I have also done some safety consulting work through the years, primarily with methane/natural gas exploration and production companies and small businesses in the Trinidad area.

I have two daughters and four grandsons: 11-year-old cousins (not twins!), a two-year-old, and the newest little guy, who joined us in August 2020. Grandkids are great; it's fun watching them grow and spending time with them without the pressure of being the parent :-)

In my bits of spare time here and there, I enjoy spending time with friends and family, baseball games, live music (especially blues), reading and doing puzzle books, and in the summer months, working in the yard. Oh, and "Go Broncos!!!"