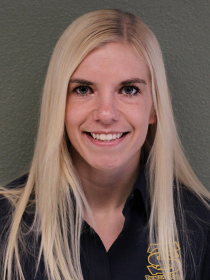 Lauren Masterson
Cross Country/Track & Field Head Coach - Valley Campus
---
Main 112
719.589.7968
Coach Lauren Masterson enters her 5th season as Head Cross Country and Track and Field Coach of the Men's and Women's programs with 4 Region Championships and 9 Individual National Champions in that time.

Her teams have amassed 51 All-American Awards since the program's restart in 2016. In only the programs first year Elias Gedyon (Los Angeles, CA) put the Trojans on the map with National Titles in the 1,000 meters indoors and 1500 meters outdoors. The very next year Masterson guided Derek Holdsworth (Williamsburg, VA) to an NJCAA record in the 1,000 meters. Holdsworth would go on to win 6 NJCAA National Championships (3x800m, 1000m, Mile, 1500m). In 2019 Masterson coached Benadine Chelimo (Eldoret, Kenya) to TSJC's first women's National Championship when Chelimo took victory in the 3,000m steeplechase at the NJCAA Championships in Hobbs, New Mexico.
http://www.trinidadstate.edu/foundation/pdf/2019.pdf

In 2019 the Trojan men earned their first ever top 5 finish at a National Championship in Albuquerque, New Mexico behind the efforts of Devin Paredes (Rio Rancho, NM), Felix Kemei (Eldoret, Kenya), Miguel Coca (Las Vegas, NM), Caleb Palmer (Alamosa, CO), and Micah Stanton (Flagstaff, AZ). The women's programs highest finish to date at a National Championship is a 7th place from 2018.

Masterson's teams look to continue setting records and improving on their high finishes in the 2020-2021 season with a large contingent of both local runners, runners from throughout the country, and a handful of international student-athletes.

Prior to Trinidad State Junior College, Masterson, formerly Martin, a native of Alamosa was a standout athlete at Adams State University. She earned 10 All-American awards and 4 Individual NCAA Championships (2x 5000m, 2x 10,000m) while representing the Grizzlies.

Masterson holds a Bachelors of Arts Degree in Political Science and Masters of Arts in Business Administration, with an emphasis in Leadership.

Coach Masterson is also a professional distance runner focusing on the marathon and half marathon distances. She was a 2020 Olympic Marathon Trials qualifier and finished 10th in the United States in the Marathon in 2018. She often spends time traveling to some of the best races throughout the country. A runner since birth, Masterson's father has been the Adams State University Head Coach of Cross Country and Track and Field since 1988 and won more Team National Championships than any other NCAA coach. Masterson lives in Alamosa with her husband Kyle and two Doberman Pinschers, Chief and King.