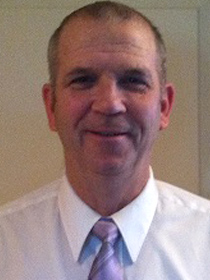 Jack Seybert
Adjunct Instructor, OSH - Trinidad Campus
---

I grew up in the small town of Deming, New Mexico, just a little north of the border. Within a couple of weeks after I turned 17 I enlisted in the U.S. Marine Corps. While in the Corps I had the opportunity to travel all around the world. I lived in many countries; Okinawa, Saudi Arabia, Mexico, the Philippines, Korea, and Spain. I also visited more countries than I care to list. In reality I grew up in the Corps and learned valuable life lessons and skills. Since I did not complete a conventional high school education, I went to night school in the Philippines and graduated from George Dewey High School of the Republic of the Philippines.
After 22+ years in the Marines I retired. While in the Marines I also found my wife, JoAlice. By the time we retired from the Marines, we had three children, and I had earned three degrees, the highest being a Masters in Community Services from Michigan State University. It so happens that during my job search I was contacted by a company in the small eastern town of Fort Morgan that made manufactured houses. They hired me to be their trainer and when I got there the General Manager told me I was also doing safety. At that time I knew absolutely nothing about OSHA or any other safety rules, standards, or regulations. Consequently, the facility was also involved in an open OSHA inspection. I immediately immersed myself in the CFR's and began figuring it out. I did not even know the difference between 1910 and 1926. My first question was which applied to us, we made houses but we were also a factory. After much study and any phone calls I finally got through all of that.
It was then that I began putting myself through safety classes at the Rocky Mountain Education Center/OSHA Training Institute at Red Rocks Community College in Lakewood, Colorado. I also enrolled in the online Occupational Safety and Health degree Program at Trinidad State Junior College. I was in the program from April 2000 and graduated in December 2001. It so happens that the factory in Fort Morgan shut down in November of 2000 and OSHA hired me as a Compliance Officer in March of 2001.
Now, I am partially retired and doing as much work as I can get as a safety consultant. My focus is helping employers after OSHA opens an inspection with them. Being a retired OSHA Compliance Officer, I have a very unique skill, and it is actually very enjoyable using my knowledge and background with OSHA to help employers who usually have no idea how to deal with OSHA. Being a consultant is challenging but very rewarding and helps me stay up-to-date on OSHA policies and procedures, as well. This also helps me while working as an instructor of online occupational safety and health classes for TSJC.
Now Jo and I are empty nesters now, living the good life in Johnstown, Colorado. We have 7 grandchildren, four live about two miles from us and three are in Utah. We love spoiling our grandkids and spending time with them. Sometimes Jo gets tired of me hanging around the house; consequently, I have obtained a couple motorcycles and picked up some hobbies to keep me busy and not being a bother to her.
I was in my last class from TSJC when OSHA hired me. I stand as a living testimony of the value of a degree in Occupational Safety and Health from TSJC. I had an extremely successful and rewarding 13+ year career with OSHA, and a major reason they hired me was because of my involvement with TSJC. My degree from TSJC set me on a course with a new career, I have no idea what I would have done without it.