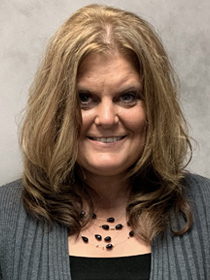 Serena Sullivan
Director of Technology Program Development and Instruction - Valley Campus
---
Main 207
719.589.7262
Serena Sullivan, known as Sully, is developing technology courses to enhance student learning experiences. One goal is to offer a broader range of courses available to students at Trinidad State. She encourages students with all variety of interests and backgrounds to get involved with technology. Sully has a way of explaining technology to ensure understanding and demonstrates technology is for everyone regardless of ability levels!

She has earned a BS, Computer Science and MS, Instructional Design and Technology, Online Learning emphasis, a graduate certificate of Online Course Development, and is currently pursuing a Doctorate of Computer Science, Cybersecurity and Information Assurance concentration. She is also a Certified Information Systems Security Professional (CISSP) in good standing.

She has real-world experience in government and industry as well as a background in teaching Computer Information Systems, Computer Science, Computer Networking, and Cybersecurity courses.

She has a son and Welsh Pembroke Corgi, Ollie. Her hobbies include Geocaching, scrap booking, building computers, building Legos, studying, Capture the Flag competitions, and is currently building a mini putt-putt course! Feel free to stop by and say hello or email her directly.