Trinidad State forms first community college eSports team in Colorado
Valley Campus / December 13, 2021 / Written by Margaret Sanderson
---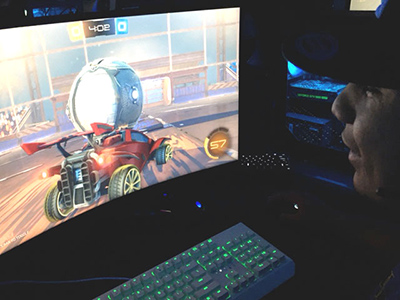 "I grew up hearing about tournaments and professional players, but I never thought a team like this would be formed in Alamosa, so close to home," said Bryan Flores, 22, whose gamer tag (eSports' nickname) is "bflo." ESports is a multiplayer video game competition in front of spectators.
Flores was five when he emigrated from Mexico to the United States with his parents. He has been playing video games since he was six. "It's a big part of my life, so it's really cool to be a part of it now," he said. Flores came to Trinidad State to run track and was delighted that eSports competitions were beginning at the college.
Esports Trivia –
• The earliest known video game competition took place in 1972 at Stanford University for the game Spacewar.
• Since 2013 universities and colleges in the United States such as Robert Morris University Illinois and the University of Pikeville have recognized esports players as varsity level athletes and offer athletic scholarships.
• By 2019 at least 10 countries were offering undergraduate or graduate eSports academic degree programs.
• In 2018 the multilevel 30,000 square foot HyperX Esports Arena was built in Las Vegas at the Luxor.
• Esports tournaments are almost always conducted in front of a live audience with referees who ensure game rules are followed.
• In the last decade, Danish player Johan Sundstein has won more than $7-million in eSports competitions.
When he competes at the college, Flores brings his own mouse and keyboard which he is most accustomed to using. His favorite video game is Call of Duty – Gunfight. In competitions with other colleges, he teams up with Carlos Gonzalez. Flores is one of 21 students now involved in eSports at Trinidad State.
"Vice President James Kynor helped me develop the proposal, which establishes Trinidad State as the first community college in Colorado with a collegiate eSports team," said Serena ("Sully") Sullivan who was hired in 2020 to upgrade the college's computer programs. Funding came from a grant from the estate of
Ralph Outcalt
, a prominent local businessman who was a strong proponent of education.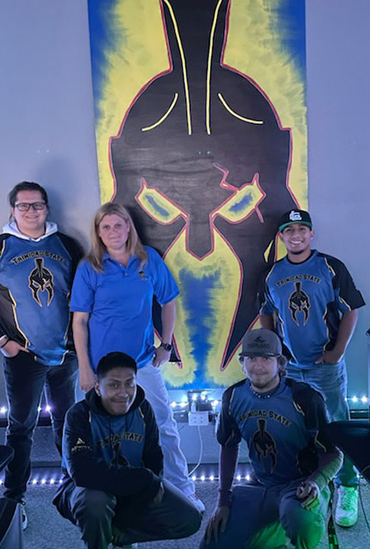 "If you would have told me 20 years ago that people would get paid to play video games, I wouldn't have believed it, but here we are," said Sullivan. According to the International Journal of eSports between 2010 and 2019, the number of eSports players who earned cash prizes rose from 3,435 to more than 27,700, while the cumulative cash prizes distributed each year increased from $6.3 million to $235 million over the same period. And millions of spectators are watching.
Sullivan came to Trinidad State to share her extensive computer knowledge and to create new opportunities for students. As Director for Technology Program Development and Instruction as well as eSports Head Coach, she works from the Valley Campus in Alamosa. Since she came to the college, along with her son and her Corgi last August, the Higher Learning Commission (HLC) has approved the Computer Science Degree she submitted along with the following certificates: Cloud Practitioner, Systems Administration, Cybersecurity, Technology in Agriculture, Database Administrator and Computer Applications Specialist. (All college courses must be approved by the HLC.) Sullivan is also resurrecting the Computer Information System (CIS) previously offered at the college. All this supports eSports.
"All networks will eventually be cloud-based," said Sullivan, "which means with internet access, a person can work from anywhere in the world." The cloud refers to a secure internet information storage system that allows remote access. Giant "server farms" filled with computers and electronic storage which can be accessed via the internet from homes or businesses anywhere in the world make the cloud possible. "With about a 30 percent shortfall in technical careers, there are more jobs than trained professionals," she said. "Pretty much every career field will require some kind of technology whether it's basic office skills like creating Microsoft word documents, to building a network and securing it. For those living in this remote rural area who want to stay here, the cloud may offer that opportunity.
Kynor added, "The digital literacy of the Valley is critically important, to not only building up the skill sets for existing businesses, but also to develop a work force that may be attractive for new business coming in."
With help from three students, Sullivan spent the summer transforming the north end of the college on the second floor into a state-of-the-art gaming lab with dark walls and lighting conducive to gaming. Along with the computer stations, the lab features a viewing center with two couches arranged in an L-shape where the gamers can sit as a group and discuss performances while viewing a 72-inch flat screen monitor. Up to 15 gamers will be able to compete at one time with an almost unlimited number of spots on the team. Gamers can also compete from anywhere, provided they have a good internet connection.
Twitch.tv is the platform used to live stream competitions. Supporters can watch competitions live at www.twitch.tv/trinidadstate.
Sullivan created two categories of players, the collegiate players who must be enrolled at Trinidad State with a minimum of 12 credit hours, and competitors who must be taking at least six credit hours. Both must maintain a 2.0 GPA (Grade Point Average) or higher. "I wanted to make sure that we could still keep it open to as many students as possible," said Sullivan.
When Sullivan sees a student with one of her eSports information cards, she asks if they are interested in playing. That's how she recruited Collin Lopez (19), who was born and raised in Alamosa. Years ago, his dad taught him how to play. His favorite game is Spiderman. He teams up with three others to play Call of Duty – Cold War, for the college. His gamer tag is "Trent2002." Lopez tried to start an eSports team at Alamosa High School, but it didn't last. He credits eSports at Trinidad State for helping him to socialize. "I'm not a very social person," he said. "It has taken this whole semester for me to start talking to Carlos and Bryan. I've met more people here (Trinidad State). I like it here. I like all the teachers. They understand and want to help you and see you succeed. It's pretty great and esports is fun." Lopez wants to teach high school history.
Currently the seven-member team competes with only two-year colleges, but because there are no other such teams formed in Colorado yet, they have been playing two-year colleges in Montana, Washington, California, Florida and Nebraska to name a few.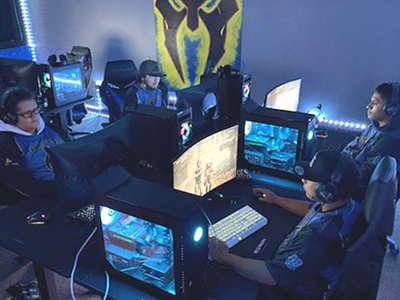 Carlos Gonzalez, who moved to the area about seven years ago, is studying auto mechanics. "Esports makes college more fun," he said. "It's a great experience for entering college for the first time." His favorite game is Call of Duty - Cold War and his gamer tag is A-A-Ron-O-o.
In traditional sports like basketball and football, there is one game to learn with one set of rules; but, because eSports offers so many different games with different rules and strategies as well as different numbers of players, Sullivan's team has chosen to begin this adventure with a few of the more popular games: Call of Duty – Gunfight, Cold War, Warzone, NBA2K, and Apex Legends.
Some are concerned about the violence in video games, but one of Sullivan's former instructors, who worked at the Air Force Academy and formed their eSports team, used their eSports competitions to teach teamwork and communication building in stressful situations, along with military strategy. "I've noticed a lot more teamwork and communication going on." said Sullivan, "Hand-eye coordination, problem solving, and communication improve with eSports."
Flores, who plans to complete his associate degree and then move on to a four-year school and major in Sociology or possibly Computer Science, said a big part of his coming to Trinidad State was the lower tuition costs, the friendly open-minded teachers and the smaller classes. When he began college in Oklahoma, he said he felt like an outsider as the only Mexican in his class. "But here at Trinidad State," he said, "The teachers accept you for who you are, and your background doesn't matter. Coming to Trinidad State is one of the best decisions I have made, mostly because of the people I've met."
For more information email
serena.sullivan@trinidadstate.edu
or call 719-589-7262.
https://trinidadstate.edu/esports/
---