The Trinidad State Educational Foundation
Sharing the Vision, Securing the Future.
Leaving a Legacy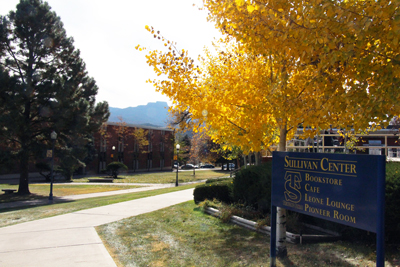 One of the major goals of the TSJC Educational Foundation is to increase its endowment or permanently invested capital. Endowment is the basis upon which TSJC can build lasting financial strength and ensure academic quality. Once in place, endowment provides permanent support for teaching, program development, student assistance, as well as technology and the arts.
At the present time, over 65 endowed scholarship funds honor and recognize donors. A named gift opportunity sends a strong message to our students and our communities that an individual, business or organization has partnered with the College in order to help shape the future of TSJC.
We invite you to consider the wide variety of opportunities and to help the College address current needs and prepare for future challenges. You are also encouraged to work with the Foundation and the College to create other naming opportunities that might fit more closely with your special areas of interest. All facility naming opportunities must be approved in accordance with College and System policies.
Suggested Minimum Investments
General Endowment Funds
 
 
 
Restricted/Unrestricted
$25,000
Endowed Scholarships
 
 
 
$1500 annual scholarship (partial-tuition)
$25,000
 
$3500 annual scholarship (full-tuition & fees)
$60,000
Special Initiative Endowments
 
 
 
Innovation Fund
$100,000
 
Program Development
$500,000
 
Dean's Discretionary Funds
$10,000
 
Faculty/Staff Development
$50,000
 
Faculty Chair (1/2 position)
$750,000
 
Faculty Chair (full position)
$1,500,000
 
Athletic Department Fund
$25,000
 
 
The Foundation's mission is to support the growth and development of Trinidad State Junior College.