Dear Prospective Student,
Thank you for your interest in the Trinidad State Junior College Nursing Program. Nursing is an exciting profession where students are offered a wide variety of practice opportunities. The Nursing Program at Trinidad State Junior College (TSJC) is the first step of your journey.
Nursing at TSJC includes preparation in general education with a focus on the sciences. The curriculum is designed to provide the student with a well-rounded educational experience. Admission to the professional nursing portion of the curriculum is based on a point system criterion. Students may submit an online application when they are complete or in the last semester of mandatory prerequisite courses.
Trinidad State Junior College's Nursing Program professors are experienced in a wide variety of clinical specialties. Clinical experiences are provided in area hospitals, nursing homes, schools and outpatient clinical settings.
Upon graduation, our students are prepared to take the National Council Licensure Examination for Registered Nurses (NCLEX-RN). Our students have a high rate of success on the licensing exam and are readily employed in hospitals, nursing homes, and other settings.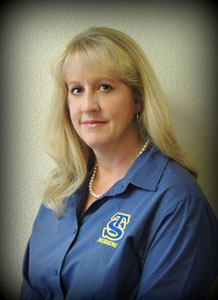 The TSJC website contains specific information about our Nursing Program. If you have further questions, please contact our Nursing advisor Kelly Hall.
Kelly Hall
719-589-7077
kelly.hall@trinidadstate.edu
We look forward to working with you as you begin your journey toward your professional nursing career.
Sincerely,
Lori Rae Hamilton RN, MSN
TSJC Director of Nursing Education
NOTE:
Students are required to meet the established standards and deadlines for the year in which they are applying. For questions and up-to-date information contact representatives listed above. It is required that students review the website weekly for changes and updates to the Nursing Program as well as check their Trinidad State Junior College Student Email Account for important messages from the College. Failure to do so will not be a defense to missed program changes or deadlines.