TSC Visiting Artist Lecture Series proudly presents: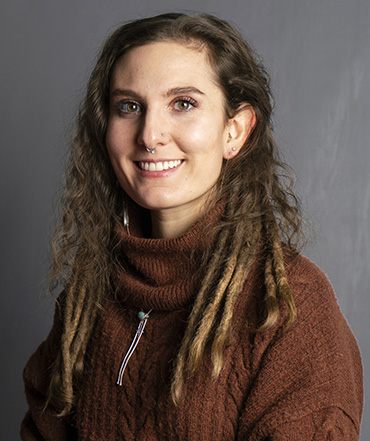 Autumn Hunnicutt
Thursday, March 16
5:30pm - 6:30pm
Boyd TCRM and Virtual
Meeting password
bpMJSv3tg27
---
Autumn Hunnicutt was born and raised in the high deserts of northern New Mexico. Her oil paintings explore interconnection, cycles, memory, and emotion inspired by her southwestern roots and spirituality evoked from the surrounding environments. Having lived in seven cities across five states, a deepened respect for new encounters and familiarity is attached to every move from home and creates inspiration for her work. The human figure, landscape, flora, and fauna are used to create stories of existence and experience. The use of color and symbolism in Autumn's paintings can be seen as a reflection of the southwest and a simultaneous longing for new encounters.
Autumn has shown work throughout the southwest and west coast including a solo exhibition at the First National Bank Galleria in Trinidad, CO, the Greg Moon Gallery in Taos, NM, NEXT Gallery in Lakewood, CO, and The Studio Door Gallery in San Diego, CA, Jordan Schnitzer Museum of Fine Art in Pullman, WA, and in several online exhibitions. She received a Bachelor of Fine Arts degree from New Mexico State University in 2018 and a Master of Fine Arts degree from Washington State University in 2022. Autumn is currently living near her hometown in Trinidad, CO, creating new work and becoming a member of the growing artist community.
---