TSC ANNOUNCES A SUMMER FIELD SCHOOL IN ARCHAEOLOGY
ANT 1075
Class begins May 31, 2022 ~ Space is limited!

SUMMER SCHEDULE AND REGISTRATION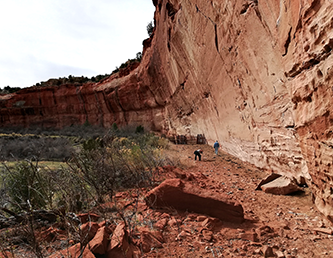 This summer's field school begins on May 31 and will be taught by Calvin Smith, Scholar in Residence at Trinidad State College.
This field school will consist of one week of classroom instruction and three weeks of excavations near Folsom, NM. This is an intensive course that will require stamina and hard work 8 hours a day, 5 days a week but carries 6 hours of credit with housing furnished.
Smith believes this to be one of his most exciting projects with much to offer and learn.
Calvin Smith has over 50 years' experience in the fields of archaeology, paleontology, history and natural history. He identified the Maljamar projectile point in southeastern NM at a high school science fair and was co-organizer of the Southwestern Federation of Archaeological Societies in 1965.
Smith went on to excavate the Rattlesnake Draw Paleoindian site that revealed a 7,500-year-old hand dug water well and became the first director of the Blackwater Draw Museum while attending Eastern New Mexico University in Portales, NM where he received three degrees. He was also director of the Strecker Museum Complex at Baylor University in Waco, TX where he was in charge of excavations that resulted in 24 Columbian mammoths in one location making it the largest concentration of extinct proboscideans dying from the same event known to science. He testified before a Congressional subcommittee of the Department of Interior regarding its importance which led to the National Monument status in 2015. During his 20-year tenure at Baylor he was also founder, professor and chair of the Department of Museum Studies and with the help of the Chancellor, Dr. Herbert Reynolds, raised the funding for the planning and construction of the new Mayborn Museum Complex which brought the Ollie Mae Moen Children's Discovery Center, the Gov. Bill and Vara Daniel Historic Village, the original Strecker Natural History Museum and the Department of Museum Studies under one administrative roof.