Trinidad State offers STEM courses and STEM degrees!
Graphic Design, Biology, Chemistry, Computer Information Services, Geology, Physics, Pre-Engineering, Pre-Med, Pre-Veterinary, Pre-Dental Astronomy, Calculus, Statistics and much, much more!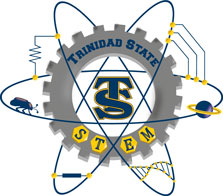 Are you a student at Trinidad State looking to get involved in STEM?
Are you in Middle or High School and interested in STEM?
Why STEM Education is important for everyone!
Science, Technology, Engineering and Mathematics—STEM, and therefore, STEM education—are vital to our future—the future of our country, the future of our region and the future of our children. Besides, STEM is everywhere; it shapes our everyday experiences.
We Need STEM:
The demand for skilled workers in science, technology, engineering, and math (STEM) is closely linked to global competitiveness. How can counselors (and those advising students) inspire students to solve problems while promoting STEM careers?
There is a lack of gender and ethnic diversity of students entering STEM educational programs and career fields present additional challenges. Using creativity and innovation to address these challenges is critical to meeting this demand of skilled workers.
Not enough young people are being educated or inspired about interest in STEM. "The education in American junior high schools, in particular, seems to be a black hole that is sapping the interest of young people, particularly young women, when it comes to the sciences."
Importance of STEM:
"In the 21st century, scientific and technological innovations have become increasingly important as we face the benefits and challenges of both globalization and a knowledge-based economy. To succeed in this new information-based and highly technological society, students need to develop their capabilities in STEM to levels much beyond what was considered acceptable in the past." (National Science Foundation)
Technology is pervasive in almost every aspect of daily life, and as the workplace changes, STEM knowledge and skills grow in importance for a variety of workers (not just for mathematicians and scientists).
Stereotypes about women's abilities and their role in the family often keep women from pursuing math and science careers.
What You Can Do:
Whether you're a student, counselor, educator, or parent, you can get involved. You're taking the first step by visiting this site. If you're a student, push your school to teach STEM classes. Counselors, it's your job to promote students to peruse a STEM. Educators, you should be teaching students the relevance of STEM in everyday life, and to you parents, push your children to do well in STEM.
---
Information and facts were adopted from:
Preparing Students for STEM Careers by Angela Traurig and Rich
---
What do the first computer programmer, the patent holder for spread spectrum wireless communications, and the author of the first assembly language have in common? All were women, as are 34 percent of today's web developers and 23 percent of programmers.
---
Guide for Women Interested in STEM (click here)
Our goal in creating this guidebook was to build a comprehensive resource that women can use to learn about their education and career options in STEM fields. The guide is filled with various online and campus-based resources, including:
A list of scholarships and grant opportunities exclusively for women in STEM
A list of the top careers for women in STEM
An interview with Dr. Wendi Heinzelman, professor of Electrical and Computer Engineering at the University of Rochester