Join us to build Emergent Campus Trinidad
Emergent Campus (EC) believes that rural America is the home of the next wave of social innovation and economic prosperity. The EC model positions industry partners as a driving force in strengthening and aligning K-12 and higher education with local economic development needs.
---
THE OPPORTUNITY - AN EMERGENT CAMPUS IN TRINIDAD, COLORADO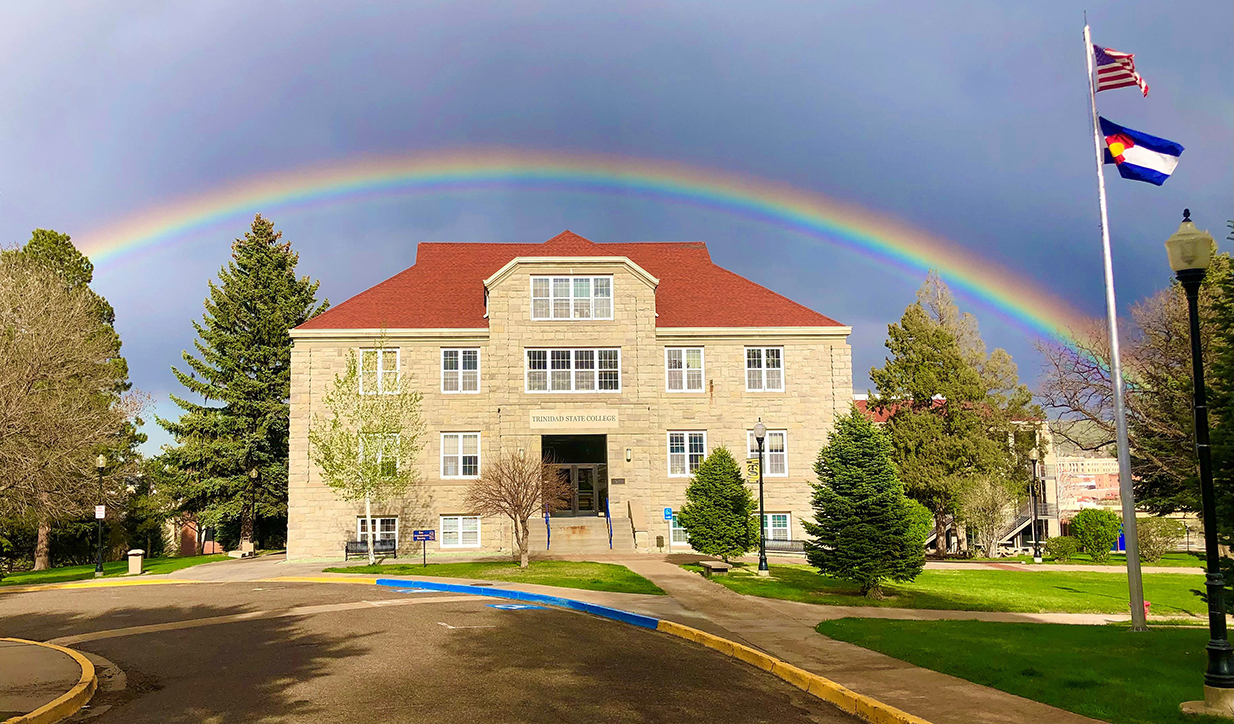 Trinidad, Colorado is home to a thriving arts and outdoor recreation community, a state college, a growing small business sector and a workforce eager for opportunities - yet so much more is possible. High paying jobs across the US are increasingly remote, tied to the technology sector, and with hiring gaps in the tens of thousands - yet pathways into these fields for youth who grow up in historically impoverished southern Colorado and northern New Mexico can feel entirely out of reach.
Emergent Campus Trinidad offers a clear roadmap for replicating demonstrated impact on job placement, advancement, and broader economic development across Southern Colorado. We envision Trinidad as an innovation hub for businesses that can supercharge our regional economic story - through new employers drawn in by lower costs, who in turn provide tangible internship and job pathways for our students into high wage industries, all leading to the next generation of rural-connected startups and employers.
---
WHAT IS AN EMERGENT CAMPUS?

Emergent Campus, LLC (EC) is a nationally award-winning technology center located in rural Fremont County, Colorado, at the historic 100-year-old Florence High School, repurposed for business incubation, co-working, and commercial office space. EC supported projects have positively impacted job creation, business start-up, and business relocation/expansion landscapes, demonstrating that tech-based jobs can be created and supported in rural Colorado. EC's community focused mission and intentional recruitment of companies who will hire and train a workforce from local markets enables rural reshoring, bringing jobs to rural communities.
The EC job creation model is responsible for 80+ new tech-based jobs in Fremont County creating just over $13M in overall economic impact annually. These spaces are operated independently and sub-leased to small business partners in the local community, from photographers to insurance companies, all the way up to agri-tech startups and federal IT contractors expanding their remote footprint from Denver or San Francisco. In turn, these companies provide internships and job pathways to local students, modeling entirely new career possibilities and leveraging hands-on experience to build the competitiveness of local graduates' resumes and support the business' mission.
EC partners closely with K-12 and higher education to provide students and adults with authentic education and training experiences that help them pursue tech career trajectories that were not previously feasible in their own community. EC helps to expose students and adults to what the tech field can offer and supports job matching/placement. The EC team has also learned that creating a tech hub in an affordable region known for outdoor recreation activities attracts senior-level employees who work remotely and become embedded in their new communities, ultimately promoting a cycle of opportunity creation for local talent.
---
---
BUILDING AT THE EPICENTER OF OPPORTUNITY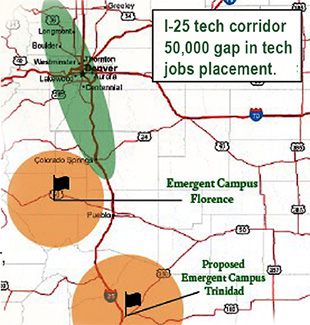 Emergent Campus Trinidad (ECT) represents a compelling opportunity to revitalize a struggling rural Colorado economy recovering from years of boom and bust cycles. ECT will be housed at Trinidad Middle School and Trinidad State College, and will serve learners and earners across seven rural counties. As this region is pivoting from extraction, tech will diversify the economic base creating livable wages and an increased quality of life. The EC hubs help physically extend the I-25 tech corridor (Denver, Boulder & Colorado Springs), tying in technological expertise, access to venture capital, and employers eager for talent regardless of location.
Community leaders have a vision to create a state-of-the-art technology center for the greater Trinidad area, which began several years ago with two major capital investments. First, Trinidad School District received a Colorado Department of Education BEST Grant in excess of $20 million to renovate their middle school campus. The Park Street Building, which will house EC Trinidad, will host technology businesses and remote workers, providing job creation and career pathways for the region. The property is move-in ready.
Second, Trinidad State College, directly across the street from the Park Street Building, is undergoing an $8 million library renovation, opening in June 2024 with a cutting-edge makerspace, training rooms, and multi-purpose collaboration spaces for use by tech-center tenants, remote workers and college students. The library renovation also includes relaxing co-working/study spaces with breathtaking views of the newly opened Fishers Peak State Park, a natural lure for tech-industry professionals.
---
WHY SOUTHERN COLORADO?
The Southern Colorado region carries enormous historical and cultural significance, yet has been left behind on too many measures of economic progress. There is an urgent and compelling need to increase educational attainment and economic opportunities throughout this rural Colorado region. These inequities are the result of rural isolation, multi-generational poverty, and low regional postsecondary attainment rates, which have been compounded through COVID-19. We believe that rural re-shoring and upskilling/reskilling both learners and earners presents an innovative approach to revitalizing this important community.
---
OUR WORK MOVING FORWARD
Our coalition believes adding Trinidad as an Emergent Campus hub would immediately bring concrete benefits to Trinidad and the surrounding region by leveraging 24 existing southern Colorado employers already in the network, providing additional internship pathways in the first year of operating, and growing in years two and three to be a fully activated innovation hub and center for the local business community. We have secured the renovated space, wired and ready to activate, across the street from an award-winning college. We are seeking partners, dollars, and resources to continue making this worthwhile and exciting dream into a reality.
---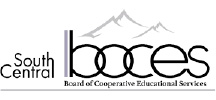 Trinidad State is a Hispanic-Serving Institution (HSI)
HSI is defined in federal law (the Higher Education Opportunity Act, Title V, 2008) as an accredited, degree-granting, public or private nonprofit institution of higher education with 25% or more total undergraduate Hispanic full-time equivalent (FTE) student enrollment.