When COVID-19 arrived in early 2020, few could fully appreciate its pending impact. The pandemic would unfold quickly, disrupting our professional lives, social interactions and family dynamics. Our health and well-being became our top priority.

At Trinidad State, we quickly focused on ways to deliver education safely. Remote learning drove technological changes, adjustments were made to campus and classroom—we adapted, allowing the college to continue meeting the education needs of our students.

For many students, the pandemic also created significant financial challenges. Many lost their jobs or sources of income, creating a struggle to pay for basic needs, like groceries, rent and utilities. Other students found themselves juggling schoolwork while caring for children at home. These hardships created financial stress.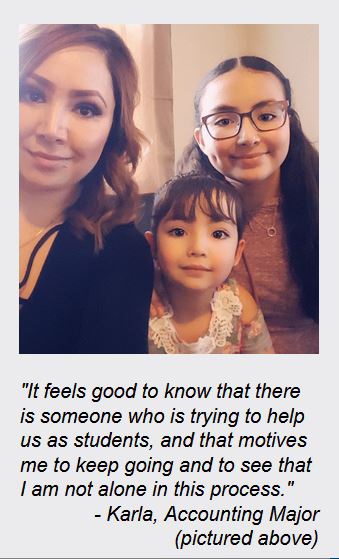 In response, the Foundation established the Student Emergency Fund — an opportunity for generous donors to help students facing financial hardships. The Fund provided direct financial support for unexpected emergency expenses, such as:
Groceries
Rent and utilities
Technology needs
Medical care
Other unexpected financial challenges
Many students benefitted, and their 'thank you' letters are heartwarming. For some, however, the need remains. Not all jobs have returned. Financial instability remains.
In a very real way, an award from the
Student Emergency Fund
can help a student continue attending Trinidad State. It can be the difference between pursuing one's education, or not. In addition, we know these gifts also send powerful encouragement to our hardworking students. We've seen the 'thank you' letters. Your support matters.
Please give to the COVID-19 Student Emergency Fund. You can make a secure gift online today, or send a donation by check to TSC Foundation, 600 Prospect St., Trinidad, CO 81082. For more information, please contact Toni DeAngelis at
toni.deangelis@trinidadstate.edu
or (719) 846-5520.
Thank you for all you do for Trinidad State.