New paramedic program at Trinidad State offers options for first responders
Trinidad & Valley Campus / March 17, 2021 / Written by Margaret Sanderson
---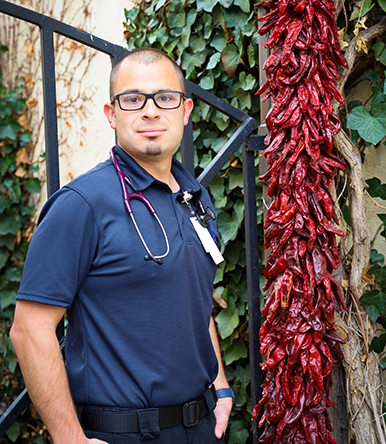 Twenty-nine-year-old Stefan Ortega has always been fascinated with medicine. "When I was going to school, my two favorite subjects were math and science. And like any kid growing up, I was attracted to sirens. When you mix math and science and sirens, you're pretty much pointed at EMS," said Ortega.

Ortega began his Emergency Medical Services training at the age of 18 while taking concurrent courses at Monte Vista High School and earned his EMT (Emergency Medical Training) basic certification. Concurrent courses allow a teenager to earn high school and college credit at the same time. Traditionally, high schools pay most or all of the college tuition expenses.

Ortega is the first paramedic to graduate from the Trinidad State program and is certified in Colorado and New Mexico as well as nationally registered. In Colorado paramedics are required to pass the national registry before they can practice. Although he has only been practicing as a paramedic since last November, he was the Ambulance Director for the town of Monte Vista the past five years and started working for the ambulance service while still in high school ten years ago.

"When I was directing the ambulance, I loved seeing the high school students… getting their EMT. It's a really cool program. If it weren't for the concurrent program I took in high school, I don't know if I would be in EMS (Emergency Medical Services) now," said Ortega.

After his high school graduation in 2010, Ortega earned his Intermediate certificate at Trinidad State while getting a BS (Bachelor of Science) from Adams State University (2015) in cellular and molecular biology with pre-med being his intention at that time. But, as he interviewed at several medical schools, he realized he felt "more at home" pursuing a career as a paramedic.

He explained up until now it has been hard for people in the Valley to get a paramedic certificate because the closest program was in Pueblo and most people here work fulltime jobs. "When Trinidad brought that program to the Valley," he said, "I jumped right on it and I've had fun doing it."

"I've always liked the challenge of medicine," Ortega said.

A paramedic has more training than an EMT. They can administer medications and start IV lines, among other things EMTs cannot do. They can also perform endotracheal intubation, intravenous access and drug administration and manual defibrillation. Paramedics train in the use of 30-40 medications, depending on the state.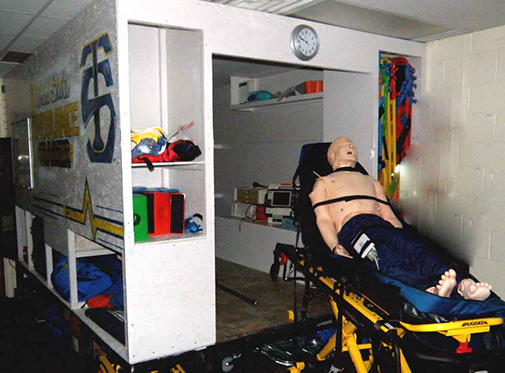 "The way I like to think of an ambulance service is bringing the emergency room to the patient before the patient gets to the hospital," said Ortega. If that team includes a paramedic, there are more treatment options for the patient. In addition to directing the ambulance, Ortega also served for eight years on the SLV RETAC (Regional Emergency Trauma Advisory Council), a state appointed board, having moved into the chair position last October. "Their goal is to Improve trauma times and trauma outcomes in the pre-hospital environment," said Ortega. The paramedic program offered by Trinidad State is helping them to accomplish their goal.

Ortega's wife, Randi, graduated from Trinidad State with her LPN (Licensed Practical Nurse) certificate in 2017. Subsequently she found work in Albuquerque. Ortega wanted to support her like she has supported him. He has taken a paramedic job in the Albuquerque area. He also wanted to be closer to family. Ortega, originally from New Mexico, was the only family member living in Colorado. The pandemic caused him to reevaluate his life. "Family is very important to me," said Ortega.

"2020 was challenging," he continued. "The hardest part of the entire pandemic was the fear of the unknown - protecting not only ourselves and our patients but our families as well because we didn't know what this was." He added, "The community support throughout the valley has been strong with people donating supplies (masks and gloves) and equipment to help us. It definitely touched me."

"I promote the paramedic program in the Valley because Trinidad State is a local, smaller institution and because the community provides a lot of support," said Ortega. "As an ambulance director, one of the difficulties I had in the Valley was getting and retaining ALS (Advanced Life Support) certified providers." In Colorado, the two ALS levels of EMT were the intermediate and the paramedic but Colorado no longer certifies the intermediate level which places a greater strain on the smaller areas. "Having a local paramedic program will serve the Valley well. The people who are teaching grew up in and understand the area and the difficulties students face within small rural areas," he said. The Paramedic coordinator and lead instructor for Trinidad State, Brent Place, is a critical care flight paramedic who flies with Eagle Air in Alamosa. "He comes with a ton of experience and he's extremely knowledgeable. The education he provides is top notch," says Ortega. LoriRae Hamilton, Dean of Instruction for Trinidad State, said Angie Medina, who also instructs for the program "is a seasoned nursing faculty who has several years as a flight nurse with a heavy EMS background prior to instructing nursing and paramedics."

"I felt at home at Trinidad State," said Ortega. "I knew my instructors and my classmates. It felt like I was going through the program with my friends," said Ortega. "I wasn't just a number. I think Trinidad does a really good job of making you feel included. I am a big advocate for community colleges and vocational programs."

Ortega explained that career options for paramedics are growing. They can serve in doctor's offices, work in ERs, and even do follow-up patient care for hospital patients who have returned home. "I definitely want to move into critical care in the next few years," said Ortega. I like the increased challenge and increased knowledge. Education has always been a big thing for me."

"The program was created with the rural EMS districts in mind," said Hamilton. "Lectures are two evenings per week and can be attended either face to face or via video conference. Every other Saturday the students meet for ten hours for testing and hands-on practice. After completion of two semesters and 270 clinical hours, the students are sent out for a 500-hour internship which can be set up anywhere in the state. Trinidad State looks forward to continuing to serve the needs of the EMS districts and is very proud of Stefan's completion of the program and national registry."

To learn more about the paramedic program at Trinidad State or to apply, go to https://trinidadstate.edu/paramedic/.