Funding for major Trinidad State library renovation works its way through the legislature
Trinidad Campus / March 31, 2021 / Written by Greg Boyce
---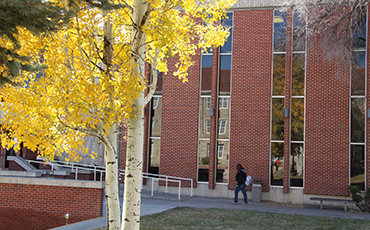 The Colorado State Legislature's Joint Budget Committee has approved $6.27 million for a major upgrade at the Samuel Freudenthal Memorial Library at Trinidad State College. The funding must still be approved by the state legislature when it votes on the entire State of Colorado budget.

The Freudenthal Library was completed in 1967, and has served thousands of students well. But libraries now require fewer books and more space for digital learning and collaborative study. And like any building more than a half century old, problems have cropped up. "This is so exciting," said President Dr. Rhonda M. Epper. "We'll be able to offer a more welcoming space that is comfortable, vibrant and state-of-the-art."

Phase one includes a welcoming, two-story glass and metal entryway, a maker space, a business incubator and a spacious high ceiling study area with its own entrance. This will allow students after hours study time while keeping the rest of the building secure. A half dozen study alcoves will be built, classrooms and offices will be remodeled, and all the windows will be replaced. Heating and cooling problems will be addressed, and the college hopes for LEED energy efficiency certification. Bathrooms throughout the building will be remodeled and new furniture will be installed. Office space for advisors, faculty and other employees will be created or remodeled.

A new parking lot will be built on the south side of the building with access to a large, but underused courtyard, which boasts a stunning view of Fisher's Peak. "We envision outdoor meetings, music and catered events in that space," said Epper. "And having it accessible from inside the library as well as from the street should make it a popular place for both students and the community."

After approval by the state legislature, construction is expected to take between 12 and 15 months, beginning in 2022. A second phase costing just over $1 million will address the bottom level of the building, which now houses the Louden-Henritze Archaeology Museum.