Graduation 2021 at Trinidad State College:
Multiple events, multiple locations; many smiling faces
Trinidad & Valley Campus / May 20, 2021 / Written by James Kynor
---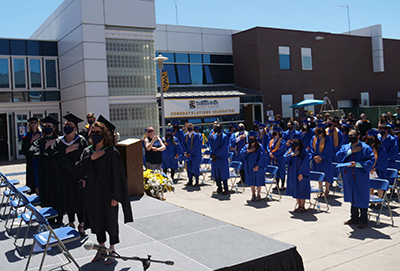 Unlike last year, 2021 graduation ceremonies at Trinidad State College were held in person, with family and friends invited to join in. This was certainly an exciting, memorable and more meaningful event than last year, when due to the pandemic, no ceremonies were held and graduating students received their degrees courtesy of the United States Postal Service. Those graduating in 2021 were fortunate as, the communities of Alamosa and Trinidad were eager for an in-person celebration; and, the Trinidad State College team certainly delivered! Social distancing restrictions were in effect; thus, the graduation events became even a bit more personal and intimate. Rather than one large graduation at each campus, three smaller ceremonies were held at both the Alamosa and Trinidad Campuses. From noon until 4 p.m. on May 6, the Valley Campus in Alamosa saw about 110 graduates cross the stage in three separates but nearly identical outdoor ceremonies. On Friday May 7, the same scenario was played out in Trinidad— with three ceremonies held over the course of the afternoon. One couldn't ask for two better days on which to graduate. Alamosa was warm and sunny, with very little wind. The weather held up in Trinidad, until the final graduation, when a sudden gust of wind blew down part of the stage. However, as quickly as the wind came, it disappeared, and the TSC team was able to quickly reset the stage, with only a slight delay.

On May 14, our Law Enforcement Program in Alamosa graduated eighteen students. The morning event, held in Monte Vista, was very well attended by elected officials and law enforcement personnel from throughout the San Luis Valley. The highlight of the ceremony occurred when the graduates were sworn into service and their new badges pinned.

Graduation ceremonies for the Adult Basic Education program was held on May 13 in Trinidad and May 22 in Alamosa. In total, twenty-seven proud graduates walked the stage at these two events to receive their High School Equivalency diplomas. Many proud family members were in attendance to cheer on the successful graduates.

All in all, Graduation 2021 at Trinidad State College was a rousing success—smiling faces, happy students, proud family members; and of course, new beginnings and a bright future awaiting each new graduate.