Prator Gun Range offers safe recreation for area enthusiasts, seeks volunteers to help with operations
Trinidad Campus / July 5, 2021 / Courtesy of The Chronicle-News, Jim Hamilton
---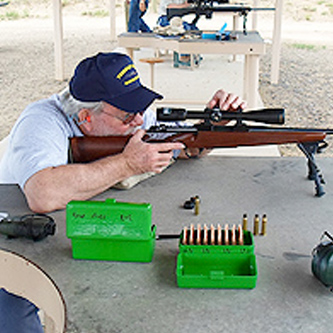 For 45 years, the Trinidad State Junior College Educational Foundation's Prator Shooting Range has provided a safe, secure location for the enjoyment of the shooting public.

Located at 42013 County Road 24.6, the facility has 25-yard, 50-yard and 100-yard range courses. For shotgun enthusiasts there is also a Trap and Skeet range.

For 41 of those years, Trinidad State leased the Range and provided for its operation as part of the school's gunsmithing program. But financial constraints necessitated the dropping of the lease. Currently, the site is being operated by the foundation with help from volunteers.

Now that COVID-19 restrictions are being lifted, the foundation is seeking more volunteers to help out at the range. Anyone who would like to volunteer for a few hours or one day a week or more are encouraged to call 505-292-8016 or 719-846-7403.

Anyone who volunteers to oversee public shooting at Prator must be a Certified NRA Range Safety Officer. The Foundation covers the cost of Certified NRA Range Safety training for volunteers who operate the range.

The next RSO training class is on July 10 beginning at 8 a.m. in the Range Clubhouse. The Prator Gun Range is open to the public from 9-5 on Saturday and Sunday. If a group wants to use the range during the week, they can schedule a time by calling 505-292-8016. The Prator Range invites everyone to come have a safe and fun time at the range.

To visit the range go east on Main Street from downtown Trinidad, turn south on Grey Creek Road (County Road 24.6) and drive 6.5 miles out to the facility. For more information contact Jim Hamilton at 719-846-7403 or email jham4h@reagan.com

NOW YOU KNOW
The Prator Gun Range was built in 1976 and was named after Bill Prator, a former instructor in the renowned Trinidad State Gunsmithing Program.

The range is currently owned by the Trinidad State Junior College Educational Foundation. As yet, the foundation has not changed its name by dropping the term "Junior" from its official title.

The facility is regularly used by many local entities such as:
— Youth programs 4-H and BSA
— Hunter Education Classes
— Local CCW Classes
— NRA Instructor programs
— Trinidad College Gunsmithing Program and Gun Club
— Trinidad Police Department
— Las Animas County Sheriff's Department
— Colorado Department of Corrections

To learn more about the opportunities available, please visit the page on our website.
---