Jimmy and Mai Vigil recently purchased a large and important collection of historic Native American cultural material accumulated from throughout the Southwest by Jim and Tana Stadjuhar. It also included prehistoric artifacts gathered from the Trinidad area that have been donated to the Freudenthal Library at Trinidad State College. The collection will soon be photographed and made available for digital viewing worldwide. Important pieces will eventually be displayed on campus. They represent about 7,000 years of history.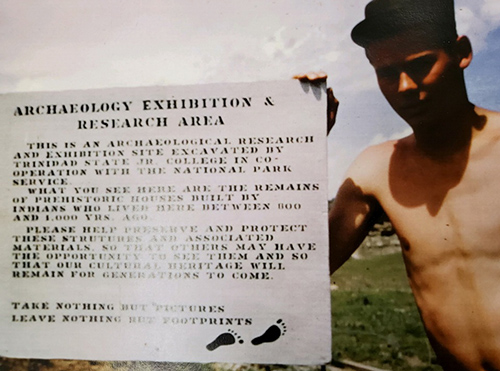 The collection
James Stadjuhar grew up west of Trinidad in Sopris and spent countless hours looking for artifacts left behind by previous residents. He and his family collected archaeological, paleontological and geological artifacts over many years from the area and amassed a large collection. He enrolled at Trinidad State in the 1960s and spent two years as a field foreman in the college Anthropology Department.
Stadjuhar kept copies of his field notes, maps, photos, professional papers and presentations he made to interested groups including the Colorado Archaeological Society. Stadjuhar graduated from Trinidad State and later, in 1969, joined the Air Force and became a pilot, eventually retiring to Nebraska with the rank of Lt. Colonel.
While Trinidad State's Louden-Henritze Archaeology Museum is the repository for artifacts found during the Army Corps of Engineers Trinidad Lake project, Stadjuhar's collection pre-dates that and includes a rich collection of metates, grinding stones, tools, weapons, and other items which tell the story of the early inhabitants of the Trinidad area. The collection is impressive because of the sheer numbers of artifacts, the field notes and documentation as well as an extensive archaeological library because of the timeline represented – from 7,500 years ago to as recent as the 19th century.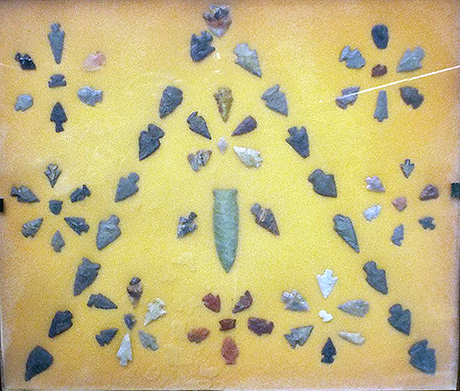 The area west of Trinidad is known as an edge habitat -- the prime land between mountains and plains. "Native American people gravitated to these 'edge' regions because of the abundance of wildlife," said Trinidad State Library Coordinator and Scholar in Residence Calvin Smith. "They had easy access to water and wood, large game like elk, deer and pronghorn and smaller animals like birds and rabbits." The oldest piece in the collection is a large stone projectile point which would have been attached to a long dart and launched with an atlatl. In the hands of a skilled hunter, it could have killed even the large ancestors of modern-day bison, which stood 12 feet tall at the shoulder. "The collection includes over 50 framed displays and hundreds of pieces from cases and spans thousands of years, and includes a digging stick [like a rudimentary hoe], pottery, a broken bow and even metal arrow points that are 200 to 400 years old," said Smith.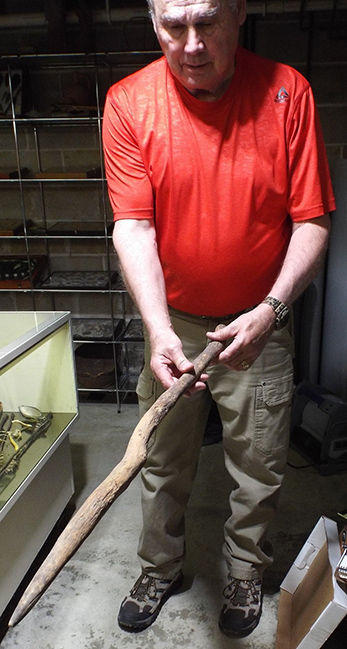 The donors
Jimmy and Mai, in consultation with Jimmy's parents, Jim and Ellie Vigil, who reside west of Trinidad, recognized the collection was historically important and should come "back home." They traveled to Stadjuhar's home in Nebraska in May and purchased it all with the intent it become a permanent part of Trinidad history for online study and the enjoyment of everyone in southeast Colorado.
"We are humbled the Vigils chose Trinidad State to house and protect this collection," said Trinidad State College President Dr. Rhonda M. Epper. "Digital photographs will soon be available to researchers worldwide and we'll eventually display the most unique and important pieces when our library re-opens to the public."