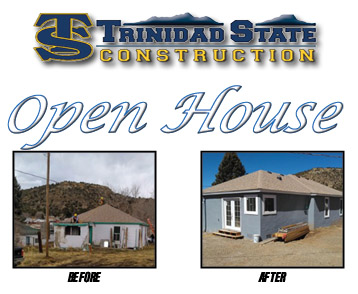 OPEN HOUSE AND YOU ARE INVITED!
On Friday, December 9, Trinidad State will host a literal open house, showcasing work done by Construction Technology students over the last year and a half. Students started working on a dilapidated house in March of last year, expanding it by about 400 square feet, adding a bathroom and moving the kitchen. Except for electrical and plumbing, the students did all the work. This included demolition, framing, roofing, sheetrock, painting and finish work.
The public can see the results from 1 to 4 p.m. Friday at 926 Stonewall Avenue in Trinidad, Colorado.
The house will be sold, with the money going back into the program. Two more houses are already owned by the college. The next project will be nearby at 920 Stonewall Ave. The program is funded by the Colorado Partnership for Education and Rural Revitalization (COPERR) through the Colorado Attorney General's Office. Trinidad State was awarded a $1.66 million grant in 2020. The money came from the national mortgage settlement, reached in 2012 after 49 states sued mortgage servicers after the 2008 financial crisis.
Representatives from the Colorado Attorney General's Office are scheduled to be at the open house on Friday.
Students in the four-week program spend their mornings in class and their afternoons at the job site. The students receive a stipend of $12 an hour for their afternoon work. By the end of four weeks, students with perfect attendance receive enough compensation to pay for about 70 percent of the college in-state tuition. They also receive basic hand tools and a tool belt worth about $350. Books needed for the class are also provided at no cost.
The next class begins on January 17, 2023. Visit our Construction Technology website for more details or call Connie Rivale-Peraza at 719-846-5014 to sign up!