Costs
| | |
| --- | --- |
| | Total |
| Double w/ 19 meal plan | $4,111.52 (double room) |
| Single w/ 19 meal plan | $4,677.82 (single room) |
---
Room Floorplan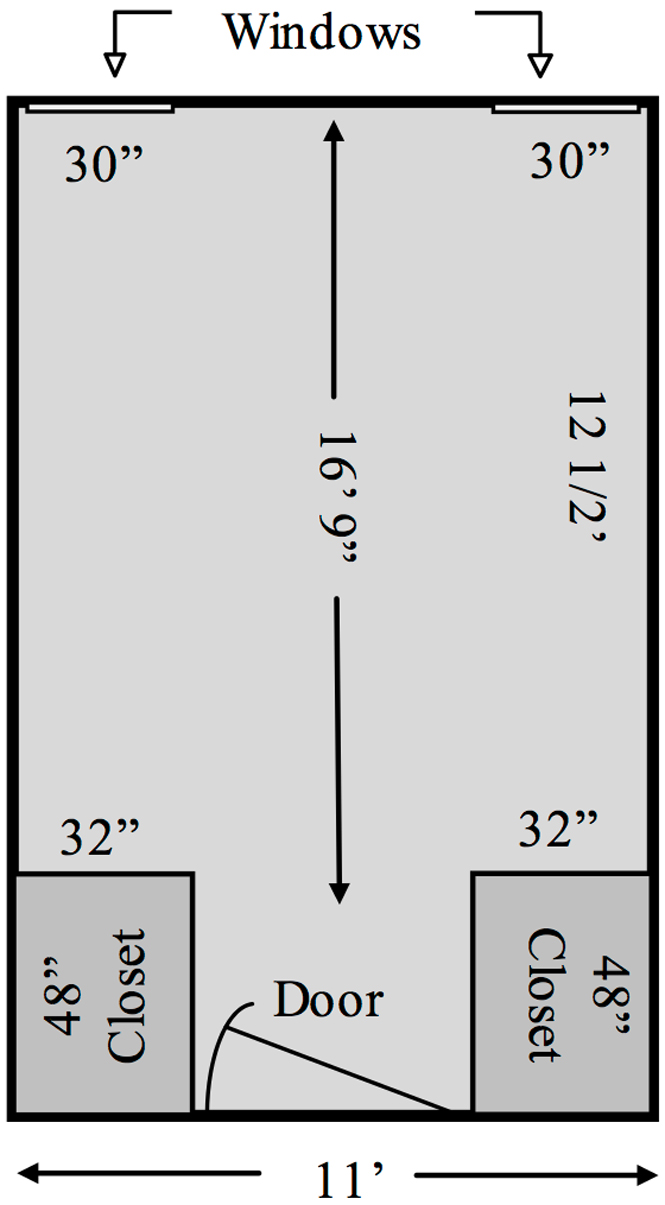 ---
---
What to Bring
The Housing Office recognizes that students may desire to personalize their rooms. We encourage and support room personalization efforts.
It is recommended that you talk with your roommate and discuss what the two of you would like to accomplish before you begin. Please keep in mind that you must leave the room in the same condition it was in when you moved in at the beginning of the semester.
Student rooms will be inspected prior to move-in, at semester breaks, announced safety checks and at move-out.
It is expected you will read the Residence Hall Handbook for specifics regarding living on campus.
---
Walls, Doors, and Ceilings
Although you are encouraged to decorate your room, do not write or paint on the walls of your room or the interior or exterior of your room door. A charge will be assessed for any cleanup required. Do not use glow-in-the-dark stickers, chalk, glue, or tape on walls, ceilings, or doors. They are extremely difficult to remove and there can be expensive charges to remove them. Do not write on the walls with ANY materials. Any necessary cleanup and/or damage will result in charges. Since brick is porous, chalk is very hard to remove and there will be extensive cleanup charges. Tampering with and/or covering smoke detector is prohibited. Placing any obstruction along the base of the door is also prohibited. When discovered disciplinary action and/or fines are possible. We encourage students to look into non-permanent devices such as poster putty and command strips to display personal items.
---
Furnishings, Bunks, Lofts, and Other Alterations
Students are responsible for the College furnishings provided in their rooms. All rooms are furnished with a Extra Long Twin bed, dresser, closet, desk and chair. The beds in your room can be configured as bunks if desired if available. These beds may be bunked or un-bunked, please contact the Housing staff for the proper equipment. All furniture provided in your room must remain in the room you are assigned at all times.
Due to weight restrictions and possible damage from puncture, water-filled furniture (i.e. water beds) are not permitted. Portable air conditioners and evaporative coolers are not allowed in any hall due to electrical restrictions. Check with the Director of Housing and Student Life or Hall Director prior to move-in to ensure an item you would like to add to the room is acceptable. The Director of Housing and Student Life or Hall Director has final authorization of acceptable items.

Residents must provide their own bedding, towels and personal articles. Furnishings designed for use in public areas are not to be moved into students' rooms. Failure to follow the Furnishings Policy may result in charges to replace/repair damages.
---
Internet Access
Wireless Internet access is available in each residence hall. In order to use the Internet connection, residents must have a LEGAL copy of an operating system (OS) and meet basic security requirements. These requirements include up-to-date OS patches, anti virus definitions, and anti spyware definitions. All Administrative level and user accounts on personal computer systems should be password protected. You must abide by Residence Life and College Network/Internet policy found in the Student Handbook.
You are responsible for your computer system regardless of where it is used or by whom. For problems with your wireless connection, please call or leave a voice mail with the Technology Services Help Desk at 719.846.5663 Monday through Friday from 8:00 a.m. to 5:00 p.m.
---
Internet Policy
You are responsible for your computer system regardless of where it is used or by whom. For problems with your wireless connection, please call or leave a voice mail with the Technology Services Help Desk at 719.846.5663 Monday through Friday from 8:00 a.m. to 5:00 p.m.
---
Laundry
Each residence hall has laundry facilities. If laundry equipment is broken or not functioning properly please contact the Housing Office at 719.846.5458. or 719.846.5497
---
Renter's Insurance
It is highly recommended that all students living in the residence halls obtain insurance to cover personal items (TV's, books, computers, etc.) that may be damaged by natural disasters or stolen. The College will not assume responsibility for the theft, destruction, loss of money, valuables or other personal property belonging to or in the custody of the student, resident's room, storage area, public areas or elsewhere in the hall or campus, including the baggage handling area related to shipment storage. To help insure the safety of your belonging please lock your deadbolt and shut/lock your windows when you are not in the room.
---
Special Needs - Housing
Special housing accommodations are available. The Special Populations Coordinator, Dan Wilson 719.846.5567, should be contacted to determine need and availability of resources.
---
Cable TV Services
Each room is equipped with a cable TV hookup providing basic service channel selections. If you have a cable-ready TV there is no extra charge or equipment necessary for these basic services. For problems with your cable service contact Comcast at 1.800.COMCAST (1.800.266.2278).
---
Cleaning
Each student is responsible for keeping their room clean. The college provides a large dumpster outside of each residence hall for students to discard their trash. Room trash must be taken to the outside dumpster. Selected cleaning supplies and equipment are provided for your use. Please contact the housing office to use the cleaning supplies. Students are responsible for the cost to repair/replace damages caused to cleaning equipment while the student borrows the items. Custodial services are provided for all bathroom facilities, corridors, floor lounges, and other public areas. Common courtesy and respect is expected in the public areas. We simply ask that if you made the mess then you clean it up. Receptacles provided in each bathroom are for toiletry trash only. Misuse of bathroom facilities may result in fine for each student in the residence hall and a $25 cleaning charge will be charged to each individual on the floor.
---
Emergency
An emergency is defined as fire, life, and safety issues the Trinidad Police Department should be called at 911. Also, the TSC security should be called at 719.845.6042 and Housing at 719.846.5458 or 719.846.5497.
---
Heating Systems
The efficient circulation of heat from the hot-water radiation panel in your room requires that unrestricted air flow be permitted from the bottom of the radiator panel as well as the upper vent area. Room arrangements and additional furnishings must allow for this air circulation. Restriction of this air flow can result in frozen pipes and extensive water damages. NEVER close any valves or shut-off devices on the pipelines that control heat circulation to other areas of the floor.
---
Personal Property - Storage
TSC does not provide storage facilities for resident items. Please plan to only bring items that fit in your room. TSC recommends you only bring items that will fit in your car, large bulky items such as furniture, bicycles, scooter, motorcycles, and large appliances may not be allowed by the Housing staff. Gasoline, propane tanks or torches, other flammable materials, and tires are also prohibited from being stored in your room.
---
Refrigerators/Microwave Ovens
Students may bring their own refrigerators as long as it meets the following requirements: The unit specifications are not to exceed the maximum of 4.6 cubic ft. Can not exceed 115 volt, 60 cycles AC 1000 watt. The appliance must be electrical and UL approved. Microwaves are required to be under 1000 watts.
The Director of Housing and Student Life or Hall Director has final authority to approve or deny use of appliances. The College reserves the right to inspect refrigerators for unsanitary conditions.