Joshua Hoffpauir
Electronics for SABLE
---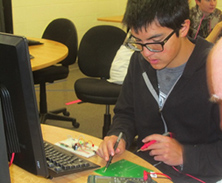 After leaving the Trinidad State Robotics team, I enrolled at CSU Pueblo and came upon their own Space Grant Consortium program. I am currently a part of one of the teams, each composed of 3 people. CSU provides resources to each of the teams, so supplies are distributed, leaving all with just enough to build the robot. Having less technological freedom is inconvenient, but it is a welcome challenge all the same.
Camille Arnn
Captain, ALLEN
---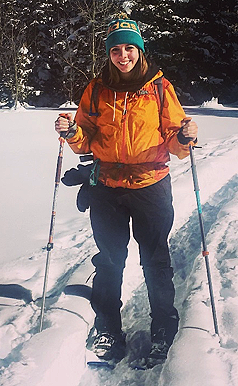 A lot has changed since graduating from TSJC a few years ago. I have since moved to Grand Junction, CO where I am finishing up my last semester as an undergrad Mechanical Engineering student. I worked in R&D for a local D.o.D contractor for just under a year where I was was able to add to the really awesome hands-on skills I initially picked up building ALLEN. Most currently, I work in the Quality Engineering department at the same company. My day-to-day includes helping with the standardization and risk mitigation of some of our processes and then blasting off to school. Aside from all of that, I spend a lot of time going out and exploring this really awesome place I live.
Eric Perry
3D Designer for ALLEN
---
After my involvement with the TSJC Robotics Team, I received a scholarship to attend Colorado Mesa University to work on another Colorado Space Grant Consortium project. This project was for the Defense Advanced Research Projects Agency (DARPA) Robotics Challenge Finals. This was an international challenge composed of 25 teams from around the world. I was able to network and learn from the other teams, which included NASA JPL, Lockheed Martin, Carnegie Melon, MIT, and many other prestigious universities. After this experience, I enrolled in the undergraduate mechanical engineering program at the University of Colorado, Boulder. I will receive my degree in May 2017. I am currently applying for graduate school for both astronautical and aerospace engineering. I have decided to pursue a career that consists of designing systems for the advancement of space flight technology. Being a part of the TSJC Robotics Team helped me greatly towards deciding my career plan. It allowed me to propel myself into the world of engineering with a better understanding of what I want to accomplish with my career. I am also currently working with the TSJC Robotics Team on a new rover design for this upcoming spring semester.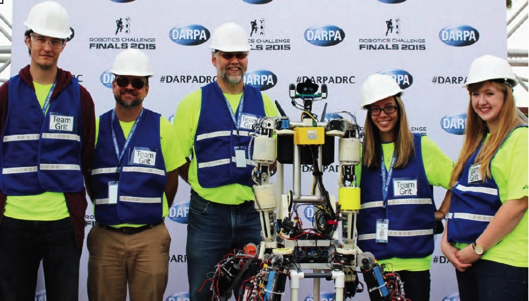 Andrez Leyva
Builder, ALLEN
---
I am currently finishing up my B.S. in Mechanical Engineering at the University of New Mexico. Currently, I am a part of the Formula SAE program at UNM where we are in the middle of the construction of a Formula 1 style race car. I and my team are set to compete with our race car at the 2017 Formula SAE Lincoln competition where we will take on other top engineering programs from around the world to see who has designed and fabricated the best race car. I am also currently employed by Sandia National Laboratories where I have held a student intern position since I graduated from TSJC in 2014.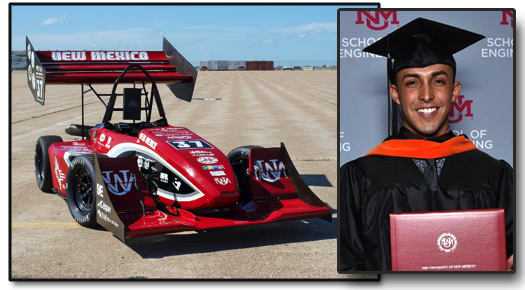 Joanna Jimenez
Sensor Designer for CAT
---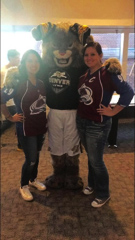 I am back in school as of last August 2016 at University of Colorado in Denver! I am currently labeled as a pre-bioengineer major with a minor in religious studies.
I'm hoping to apply to the bioengineering program next spring. On Fridays I spend my days working at Frank Azar's office as an assistant to whatever department needs me until I pick one that I like!
Brett Gonzales
Electronics for CAT
---
I am currently in my final semester for Electrical Engineering at Colorado State University. I am concentrating in controls and control design, but have some experience in antennas and in IC design. Robotics at TSJC inspired me to choose the Electrical path, and it also inspired me to join the CSUAUV senior design project, in which we are developing an autonomous underwater robot to navigate obstacle courses, with the future intent of competing in the Navy RoboSub competition in San Diego. On the team I am responsible for development of sensing systems of the sub, such as image processing and inertial movement measurement. Here is the link to the robotics project I am currently on:
http://csuauv.colostate.edu/.

Larry Vidaurre
Programmer for CAT
---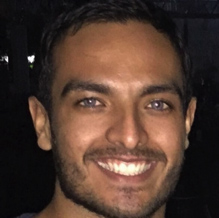 After leaving TSJC, I continued on to Nyack College in Nyack, NY and received a bachelors degree in computer science. After receiving my degree I moved back home to Dallas- Fort Worth TX where I began my job search. Shortly into my search I was hired at Hewlett Packard Enterprise to fill the role of a cyber security engineer.
As a cyber security engineer, I work with a SIEM ( Security Information and Event Management) solution called ArcSight, to help customers monitor, identify and remediate cyber threats within their networks. My daily tasks include working within the Linux command line, analyzing network architecture, creating innovative solutions to new problems, and LEARNING.
Working in cyber security means that you are constantly going to encounter new threats and attacks and this requires you to think critically to solve these problems. This requires you to be an active learner and never get complacent with where you are and what you know today.
I love what I do and I couldn't be more happy to have pursued a career in computer science/engineering and I attribute a huge part of where I am today to TSJC Robotics Program and Ms. Clements for introducing me to the technology field and for your dedication to the Robotics program and your passion for your students!
Steven Jones
Programmer for CASPER I
---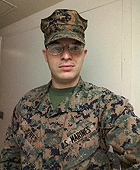 I am currently a Corporal in the USMC as a Motor Transport Mechanic. I have been working on the various vehicles they use. I have been around the country currently in North Carolina, as well as outside of it.
As my enlistment comes to an end I am looking into college for Automotive. Then I want to pursue computer science and robotics.
Zach Scott
Lead Builder on CASPER I, SPAR
---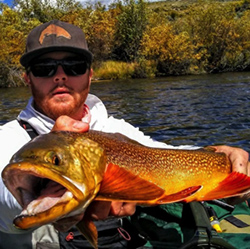 After graduating from TSJC I moved on to attend the University of Colorado at Boulder. I graduated December 2015 with a degree in mechanical engineering with a concentration in environmental sustainability. Post-graduation I took some time off to reset and re-charge before entering the work force. During that time, I spent a lot of time outside either on the river fly fishing or in the woods backpacking. Currently I am employed as a Mechanical Design Engineer and CAD drafter at Ice-O-Matic; a company that designs and manufactures commercial automated ice machines and supplies them globally. In the future I plan to move into the sustainable energy sector and pursue my passion for a more environmentally sustainable future.
Onorio Franco Jr.
Captain, CASPER I, SPAR
---
I have taken the lessons learned from TSJC and have become a scientist. I now work for North American Testing Inc as a Field/ Lab Technician in Colorado springs, where we do Construction materials testing for the Military Installations in and around the Front Range. My work consists mostly of outdoor responsibilities that include and are not limited too : Concrete Compression and Flexural strength, Nuclear Gauge Densities, Inspection Reports, Site Mapping, Data Analysis of Reports, Soil and Aggregate Testing, and many more. I have found that using team management, proactive planning and an aggressive team effort usually requires discipline but results in fantastic reviews and returning customers. It's an exciting and interesting career that changes daily. Weather, sun, wind, even moisture in the air can affect each aspect of our tests and work abilities, so we must adjust accordingly. There are definitely difficulties that are associated with working outside and being at the mercy of Weather, however, I have found ensuring tax payer money is being spent on Quality product and delivering timely production makes my job worth it. I wish I could have a robot next to me as a helper but I haven't gotten back to TSJC for another round of Robot Competitions!
I am now a part of the geotechnical engineering field.
Rachel Hadaway
Builder, CASPER 2
---
After being on the TSJC robotics team in high school, I went onto New Mexico Institute of Mining and Technology, studying mechanical engineering. After doing that for a year and a half, I realized that wasn't what I needed to do with my life and transferred back to TSJC and graduated with my Associates of General Studies in 2014 and Associates of Arts in Psychology in 2015. After completing those degrees, I transferred up to Colorado State University and began the Social Work program. This May 2017 I will be graduating with my Bachelors of Social Work and entering the professional world from there. I am hoping to find a position as a victims advocate in the near future to move into once graduation is over.
Matt Barela
Electronics, WHISKERS
---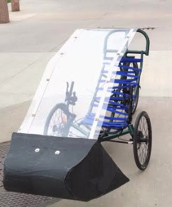 After graduating from TSJC, I went on to attend school at Colorado State University in Fort Collins, CO. I graduated in May 2016 with a Bachelor's Degree in Mechanical Engineering. While at CSU, there were many projects I was involved in that allowed me to enhance some of the skills that I learned from working on the robotics project at TSJC. For my Senior Design project at CSU, I was on the Human Powered Vehicle Competition (HPVC) Team. The HPVC is held by the American Society of Mechanical Engineers (ASME) and is a competition that is held worldwide. The overall goal is to build a vehicle that is powered by human and that one can use to compete with. The competition involved events such as a drag race and an endurance event but was also judged on engineering principles used to create the vehicle. I was involved in designing, building and completing the finite element analysis. Our overall design involved building a 3 wheeled recumbent tadpole ( 2 wheels in front, 1 wheel in back) that utilized a regenerative braking system. The regenerative braking system involved using a DC motor to charge 6 ultra capacitors during braking which in turn would provide power to the DC motor and give us a little boost in straightaways. The end result didn't really work as planned but this was something that had not been done by any other teams in the past and hopefully helped to lay some groundwork for future CSU teams.

I am pretty grateful that I was able to be involved in both the Robotics and Balloon Satellite Program at TSJC. They really laid a solid foundation of engineering skills and principles that have been very beneficial throughout my career. It's has been really great to see how much the robotics program has grown over the years.
Laura Mourer
Organization, Graphic Designer, and Builder, WHISKERS
---

It has been already almost 7 years since then and many things have changed in my life. Now, I live in Kalama, WA and I work for the Longview School District as an ELL (English Language Learners) Liaison/Advocate. I spend most of my time visiting middle-high school students that may be in need for help or need a reminder to work harder and not get behind or not to fail. Sometimes, it is shocking for me to discover so many hard situations that a student can have and at the same time is trying to attend classes. Furthermore, when I have the opportunity, I tutor the same students in math and/or Spanish.
Last year, I decided to continue my education further. I started the Master of Arts in Teaching Evening Program at Concordia University in Portland, OR. I am pursuing my endorsements in math and Spanish.
I plan to graduate in 2018.
The Robotic challenge gave me a great opportunity to be part and learn from this great team. It was an unforgettable experience.
Jeremy Begley
Captain, WHISKERS
---
Upon graduating from TSJC, I was accepted into the College of Engineering at Colorado State University. I received my Bachelor of Science in Civil Engineering in May of 2013. I accepted a job offer from URS Corporation in Denver as a structural engineer working on industrial and oil/gas projects largely based in Canada. URS merged with AECOM at the end of 2014. Shortly thereafter, I was put on a new project working on a large nuclear facility in Idaho. In January 2015 I enrolled as a part-time student at University of Colorado at Denver to pursue my Master of Science in Structural Engineering and hope to graduate in December of 2017. Last year in June of 2016, I left AECOM/URS after nearly three years of working there. I now work for Gannett Fleming in Denver as a civil/structural engineer. I have shifted into a new role where I work on the structural evaluation of dams and hydraulic structures under the leadership of my boss and mentor Guy Lund. Our main focus in this office is on the evaluation of concrete arch dams. It has been an exciting journey since my time at TSJC, and I am looking forward to what lies ahead.

Catherine Jimenez
Sensor Designer, WHISKERS
---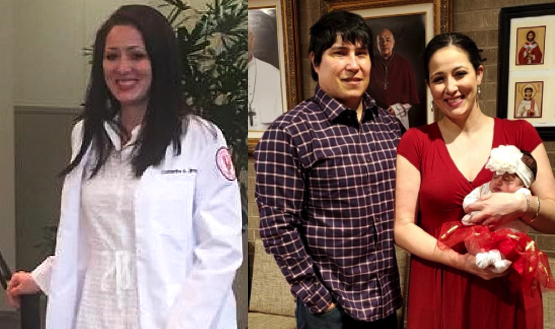 After being part of the very first robotics team at TSJC, I went to the Colorado School of Mines and graduated with a Bachelor's of Science in Chemistry with a Biochemistry specialty and minor in Public Affairs. After spending a year substitute teaching and coaching in the Denver area, I entered medical school in Fall 2015 at the University of Illinois-Chicago (currently studying at the Peoria, IL campus). I plan to graduate with my MD degree in May 2019, at which time I will apply for a residency in either obstetrics/gynecology or in internal medicine to become a cardiologist.
I am definitely thankful for the robotics team and calculus classes taught by Ms. C, who challenged me and showed me women could be successful programmers, mathematicians, and scientists! I am proud my younger sister Joanna joined the robotics team a few years after me as well!
James Donnelly
Whisker Designer, WHISKERS
---
Upon graduating from TSJC, I transferred to CSU (Ft. Collins) along with several others from the Whiskers and Balloon SAT Team. However, I was not entirely confident with my decision to pursue a degree in EE. After working in as a low-voltage electrician and running my own recycling business for just over a year, I enrolled in the Mechatronics program at CSUP (Pueblo).
Here, I was able to work on another Space Grant Robotics Challenge. "The Sand Shark*" was a robot whose chassis was completely constructed from recycled materials (mainly due to budget constraints). I was also the team leader of our senior project of the Autonomous Lawn Mower**. I graduated in December 2015 with a Bachelor's of Science in Engineering with an emphasis in Mechatronics.
Since then I have been working for my father's vending business and spending time with my wife and daughter who was born while I was attending school at CSUP. If it wasn't for TSJC's outstanding Science and Math Department and faculty, I probably would have never gained an interest in robotics and chosen the field of study in which I did.