Academic Assessement Program
Academic Program Assessment
Annual Assessment Cycle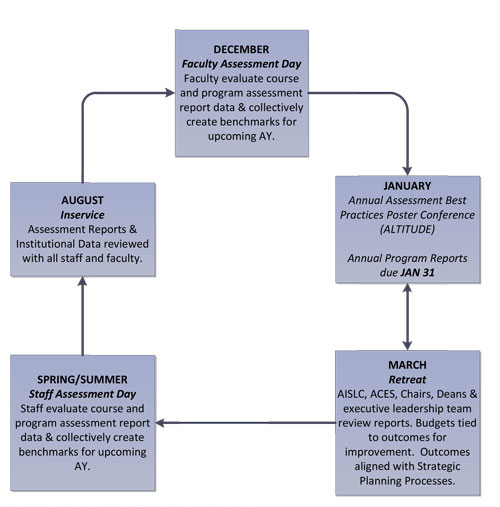 Program Assessment, Reporting, & Reviews
All of TSC's programs are involved in regular assessment practices so our students are ensured the best possible education that will lead to successful careers or transfer to four-year colleges.
There are many different ways for programs to collect data on student learning. While surveys are, of course, important mechanisms for collecting data on student, graduate, and employer perceptions, they are not the only or even the most effective way of assessing whether our students have the skills and knowledge we want from them. First, of course, it is vital to have clearly articulated learning outcomes which specify the kinds of skills and knowledge programs expect of their graduates.
Program Review is a vital part of assessment practice since it establishes a common structure and a time-table for a comprehensive self-study that leads to important institutional decisions on effective future directions for the program. Program review draws on a series of assessment tools including course learning outcomes, general education outcomes, employer surveys, analysis of retention data, VE-135 data, certification tests, suggestions from advisory boards, and much more.
Program review is not, however, the only opportunity for program assessment. Effective program review is, in fact, the result of the ongoing practice by programs to collect data on student learning each year, culminating in a program assessment report.
Course Assessment provides useful information for program assessment, especially when key projects to assess program outcomes can be embedded in course work - embedding assessment - Course assessments are one method of collecting and evaluating program level questions about student learning. For example, utilizing a common critical thinking rubric throughout a program curriculum can illustrate not only whether the students are improving their skills as the curriculum progresses, but also whether the students' final skill level reaches a benchmark set by the program.
Certification tests can be important measures of student knowledge relative to the expectations of a professional area and are an essential part of many TSJC programs. When we get an analytic reading of the results that identify the strengths and weaknesses of our students, then they become invaluable tools for assessing learning outcomes as well. For example, if students perform poorly in an area considered important to the program, this could provide the data necessary to make an informed program decision to modify the curriculum.
Capstone courses can play a vital role in program assessment. Often capstones offer the opportunity to evaluate the performance of students on simulations, projects, or internships that require them to synthesize the skills and knowledge learned throughout the program. The data can be collected by measuring how well the program has prepared students to meet the key targeted program outcomes. If students seem weak in an area considered important to the program, such as professionalism, this could provide evidence for deliberation on whether the skill might need to be re-emphasized in other areas of the curriculum.